FOR IMMEDIATE RELEASE
CONTACT:
FERNANDO MANECA
Marketing & Communications Director
(718) 832-0018 | FERNANDO@BAX.ORG | BAX.ORG
‌
BAX | BROOKLYN ARTS EXCHANGE
NAMES NEW EXECUTIVE AND ARTISTIC DIRECTORS
VANESSA ADATO AND PALOMA MCGREGOR
BAX | Brooklyn Arts Exchange is pleased and excited to announce that following a year-long search process we will usher in a new era with new leaders on February 1, 2019. Vanessa Adato and Paloma McGregor will take over the helm and co-direct BAX as Executive and Artistic Directors respectively. Both Vanessa and Paloma share a deep respect for developing student and professional artists and building on BAX's anti-racist/anti-oppression platforms. Together they will ensure BAX's continued vision and growth.
The Board and staff of BAX honor the twenty-eight-year-long tenure of our Founding, Executive Artistic Director Marya Warshaw and know that the legacy she leaves is a rich one. We thank her and have made a commitment to honoring BAX's mission and to build upon its impressive history. BAX's Board of Directors, staff, artists, students, and families are stepping forward to take advantage of this moment, and seize the opportunities it presents. Vanessa Adato, formerly BAX's Managing Director, and Paloma McGregor, a BAX AIR alum and artist/organizer, will lead a team who has a deep dedication to creative expression, education, community, and social justice.
Board member Jimena Martinez, speaking for the Board of Directors wrote:
"BAX is thrilled to welcome our new leadership team. We're extremely fortunate that Vanessa will bring her tremendous dedication and depth and wealth of experience and knowledge of BAX as Managing Director, to the key role of Executive Director. And we're wildly excited to welcome Paloma, a noted artist who has incubated important work at BAX and brings a strong commitment to the transformative power of art, collaborative journeys and social justice, as BAX's new Artistic Director. We look forward to exploring together this team-based, collaborative approach to ensuring BAX's continued vision and growth."
BIOS
Executive Director Vanessa Adato has been the Managing Director of BAX | Brooklyn Arts Exchange since 2001. Prior, she was the General Manager from 1998-2001. She has been an integral member of the leadership team and has overseen the growth of the organization from $300,000 to its current near $1.5 million dollar budget. Adato works closely with the Board of Directors on fundraising initiatives and other organizational objectives. She has participated in a wide range of notable workshops and seminars including the Arts Leadership Institute (Arts & Business Council), EMCarts Innovation Lab, the National Guild's Fundraising Lab, and the Devos Institute, among others. Prior to BAX, Adato worked at the American Dance Festival as a Special Projects Administrator. A former dancer, BAX is deep in her DNA and was the first performance venue she participated in after graduating from NYU's Tisch School of the Arts in the early 90's. She is excited to begin this next chapter co-leading the organization with McGregor building upon Marya's legacy and commitment to arts and artists in progress.
Artistic Director Paloma McGregor is a Caribbean-born, New York-based choreographer and organizer who has spent her career centering Black voices through collaborative, process-based projects. Since 2008, she has been Artistic Director of  Angela's Pulse, which she co-founded with her sister, director Patricia McGregor. Paloma has received support for her work from Surdna Foundation; MAP Fund; Dance/USA; Dance/NYC; NYSCA; Foundation for Contemporary Art Emergency Grant; and Jerome Travel & Study Grant. She was a BAX AIR from 2014-16, and launched her Dancing While Black Fellowship at BAX during that time. She was an inaugural Urban Bush Women Choreographic Fellow (2018) and is currently an Artist in Residence at Movement Research. Past artist residencies include: New York Live Arts Live Feed (2016-18); LMCC (2014); NYU's Hemispheric Institute of Performance and Politics (2013-14); and iLAND/iLAB (2012). Paloma toured internationally for six years as a dancer with Brooklyn-based Urban Bush Women and is currently collaborating on projects with Liz Lerman, Ni'Ja Whitson (BAX AIR 2015-17) and skeleton architecture, with whom she won a 2017 Bessie Award for performance.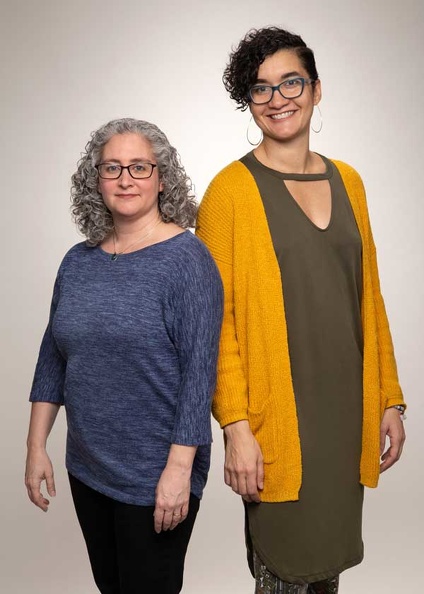 (Left to Right): Executive Director Vanessa Adato and Artistic Director Paloma McGregor
by Stomping Ground Photo
BAX'S MISSION
BAX's mission is to provide a nurturing, year-round, performance, rehearsal and educational venue in Brooklyn that encourages artistic risk-taking and stimulated dialogue among diverse constituencies. Founded in 1991, BAX is a proud cultural home to thousands of artists, students, families and audience members. 28 years later BAX remains committed to its original vision, supporting dance, theater and performance artists of all ages, and throughout all stages of development, and providing shared space in which children study and professional artists create.
BAX welcomes students, families, faculty, and artists to an organization with a core commitment to social justice. In keeping with BAX's mission, we intentionally and purposefully support the voices of under-represented individuals and groups of all origins, ages, abilities, races, sexual orientations, and genders – including trans-identified individuals, or those with varied immigration statuses. All our constituents join an organization whose staff and Board is actively engaged in challenging the manifestations of whiteness, able-bodiedness, and privilege as part of our ongoing anti-racist efforts and our other anti-oppression, pro-inclusion work.